William " Buddy " Harrison - 59 years old.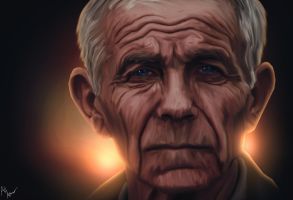 The Patriarch of the family, you can tell by the lines on his face that Buddy has lived a life. He married his childhood sweetheart Scarlett at a young age. He was from the wrong side of the tracks for her family but they were young and in love. They eloped and she quickly fell pregnant with their daughter Isabelle. Unfortunately for Scarlett, she wasn't prepared for a life that was anything other then pampered. With William working in the mines day and night trying to make ends meet, Scarlett was left for long hours with a small child trying to make ends meet.
Eventually she couldn't take it anymore and one day when William came home from work, his wife was gone and Isabelle had been left in a neighbors. So began his life as a single father and a new life for them in a new town. When Isabelle was younger she had a slight speech impediment and instead of saying Daddy it would sound like Buddy and that's how he got the nickname that everyone now knows him by. He did his best to raise his daughter despite long hours and various health issues from working in the mines, he managed to keep a roof over their heads and food on the table.
Life however changed when his teenage daughter sat in their front room crying and told him that she was pregnant. It wasn't what he had wanted for her and despite what others thought he let her make the decision on what she wanted to do. She decided to keep his future grandchild and one of his proudest moments in life was being there for the birth of his grandson and having the honor of cutting the cord. Life after that was more complicated. The towns fold shunned the family more. He noticed his daughter didn't go to church anymore like she had used too. He pretended not to to notice but he knew that one of the reasons she had stopped was because of the looks she had gotten when she brought her son, Riley with her.
However, being a social pariah didn't stop his daughter from graduating at the top of her class. He was so proud when she got her diploma even though the Principal wouldn't let her speak as Valedictorian because "how would that look?" She had even gotten a scholarship to go go to some fancy medical school in the city. One with childcare available so she could go study and then her plan was to get her medical licence and come back to their home town and set up a general practice.
But life was to take yet another turn. Having got lost one day in his own town, he was found by the local sheriff and brought to the hospital in the city. It was then he was told the full extent of his health. He had COPD and seemed to be suffering from dementia. Despite his objections, Isabelle, his belle, gave up everything, packed up her things and left the city to come home and care for her ailing father. Of course now a days he doesn't even remember her being having left at all.
---------------------------------------------------------------------------------------------------------------------------------------------------------------------------------------------------------------------------------------

Isabelle " Belle " Scarlett Harrison - 30 years old.
From the time she was born Isabelle couldn't seem to catch a break. A sweet and relatively passive baby, she grew to become a confident and inquisitive toddler. She was clever and always getting into mischief as most toddlers do. However, it seemed even this was too much for her mother who abandoned her at the tender age of four, she hadn't even started school yet.
Despite her father's best efforts to convince her otherwise, Isabelle always felt responsible for her mother leaving. She had thought that if only she had been different then maybe her mother would have stayed and her dad wouldn't have been so sad all the time. So that's what she did, she changed. The confident outgoing toddler became a shy and introverted child.
She didn't make many friends growing up but she didn't make any enemies either. She was just the girl at the back of the class who kept her head down and didn't bother anyone. Her teachers always liked her. They said she was polite and always did good work but said she was ' social awkward or inept'. Truth was, she was scared of letting people down so it was just easier to not let anyone get close to her.
This pattern continued continued into her teens. She was called a nerd, geek, orphan. Anything the other girls could think of to hurt her and it was beginning to sink in. Deciding that may be it wouldn't be so bad to make a friend, she tried talking to Ruby Mulligan in the cafeteria. It seemed simple, a hi and a how are you but that started off a chain of events she could have never suspected. Ruby tainted her in the cafeteria and knocked her lunch tray out of her hand, leaving her standing there humiliated. Kneeling down to pick up the mess she tried to hold back the tears when another pair of hands reached down to help. "
Sorry about my sister, she's a bitch.
" and that was it.
A young love began to blossom between the pair but Cole wanted to keep it a secret which at the time didn't bother her. She didn't want the attention of being with the quarter back anyway and he was her dad's bosses son. She didn't want to jeopardize her dad's job. It was exciting having this forbidden romance, it was like something out of a book and when he asked her to meet her during his sister's crowning at the prom. She had no problem with that, no one even noticed they were gone with all eyes on Ruby.
They found an empty classroom and Cole held out his hand, Isabelle smiled and they slow danced together in the classroom to the music of the prom. A dance, led to a kiss, a kiss led to the zipper on her dress being pulled which ultimately led to her leaning over the toilet for the next two weeks vomiting. At first she thought she had a virus but when she missed her period she knew. She was too scared to go to pharmacy to get a pregnancy test and despite being afraid of letting him down, she confided in her father.
When it had been confirmed, she asked Cole to meet her in private. She confided in him and told him that she was carrying his child. She had hoped that he would be supportive but instead he freaked out. He was shouting at her like it was her fault and all she could do was cry. He wanted her to get rid of the baby but she couldn't do that. Her mother had treated her like nothing and she wouldn't do the same. So, she was left with no choice. Her reputation was ruined the minute everyone found out she was pregnant. At least with the money she could help support the baby.
So keeping Riley's dad a secret, she got on with her life. As her stomach grew, she kept her head down but it didn't matter as it was hard to ignore the whispering s and glares of her classmates but she was determined that if nothing else she was going to get to college and if she had to bring her little guy with her, she would. So she juggled school, her part time job at the diner and looking after the baby. It wasn't easy but it was all worth it when she finally got her diploma and a scholarship. Although she would never forgive her Principal for not letting her speak. She had earned the right to be Valedictorian but the school was afraid of how it would look to have the teenage unwed mother speak in front of everyone.
But she put that behind and went to Medical School. Riley was thriving in the daycare and she had free accommodation on site so she was able to spend her evenings and nights with her now toddler. It was hard but not as hard as what was about to come. She'd never forgot the phone call from the hospital when they said her dad had been taken in for tests. She packed up and left immediately for her home town and although she didn't know at the time she would never return.
It's been a decade since that day. Isabelle has just turned thirty. Riley is now a teenager and she is working full time in the diner thanks to Momma's May's generosity. She works the morning and night shift and then spends her time during the day caring for her dad and son who doesn't seem to have time for anyone but his friends, which in a strange way she is grateful for that.
---------------------------------------------------------------------------------------------------------------------------------------------------------------------------------------------------------------------------------------
Riley 'Lee' William Harrison - 14 years old.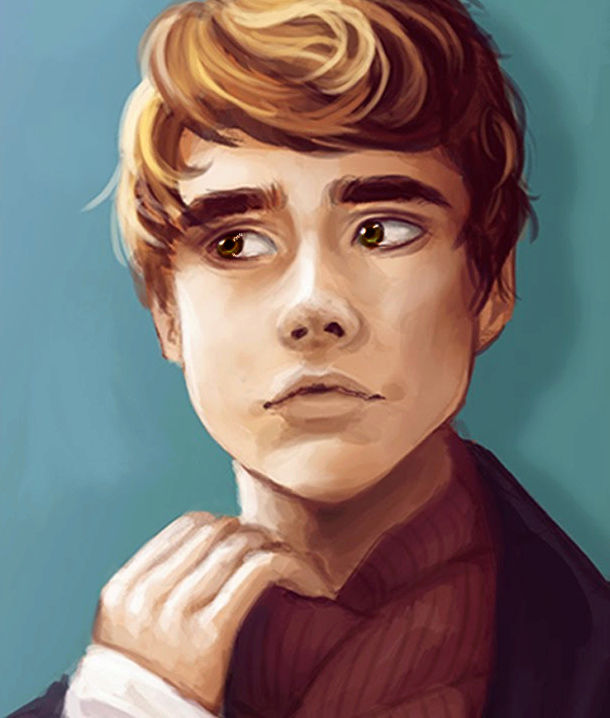 Riley is 14 years old and puberty has thoroughly set in and he's just about to start high school. He has lived with his mother's stigma his whole life and been teased about it constantly. He is viewing high school as a new chance for him. He's been working out all summer and he's hoping that once the term starts he can try out for the football team and then no one is going to make fun of him anymore.
He's an intelligent boy but he often downplays it to fit in. His teachers say he's good in class but could do better if he made more effort. His mum is always nagging him to do better so he can go to college but he resents her for doing that. She only does it cause she never got to go. So, he acts like most teenagers and pushes her away as he rebels in his own little way.